Steps to add Sunba IP cameras to Hikvision PoE NVR
Ultimate video guide below updated 2020/06:
For Sunba Illuminati, it should be plug and play with Hikvision PoE NVR. Just make sure the NVR supports 802.3at and has sufficient power budget (at least 30W left) for the camera.
For Sunba 601-D20X, 601-D25X, 405-D20X, 405-ECO, 406-D20X, FT-HD and 305-D4X. Please see the instruction below.
The following instruction is made based on Hikvision DS-7608NI-I2, but should be applicable to all Hikvision PoE NVR.

The following tutorial assumes that you are using the back switch of the NVR to power the camera.
You need to first ensure that the PoE NVR is 802.3at (instead of 802.3af) with 25W as the maximum power output per port otherwise the NVR cannot supply enough power to the camera.
You can google to check the NVR Spec and if you are not sure, please contact Sunba support with the NVR model to double check.
Step 1. Check the PoE Gateway of your Hikvision NVR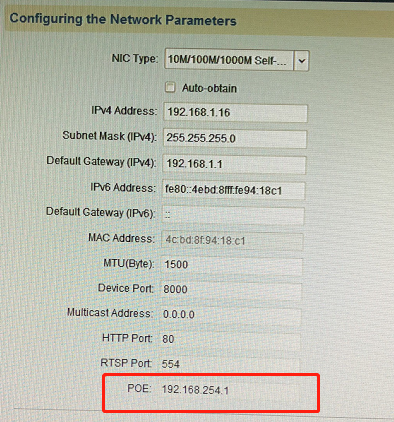 Usually the PoE NIC gateway of Hikvision PoE NVR is 192.168.254.1.
Step 2. Modify Sunba IP camera network information. 
Connect the camera to a generic PoE switch, to PC or to router to modify the camera's network info first.
Go to Device Config-Network of the camera in IE/VMS, or use the Device Manger tool to modify the camera IP to match Hikvision POE NIC.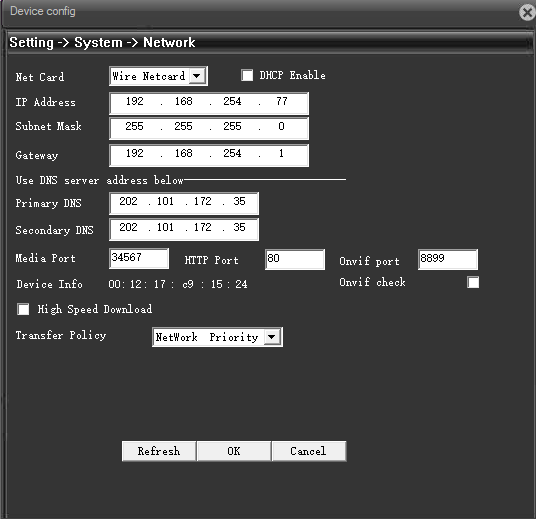 In the picture above, we modify the IP of the camera to be 192.168.254.XXX and the gateway to be 192.168.254.1 (that matches the PoE gateway of the Hikvision NVR).
Under Device Config-ENCODE, please select H.264 instead of H.265 as H.265 is only supported by Sunba Private Protocol.
Step 3. Connect the camera to Hikvision PoE NVR. 
Wait for the camera to finish the self-diagnostic rotates upon receiving power from the NVR. This can usually take 1-2 minutes.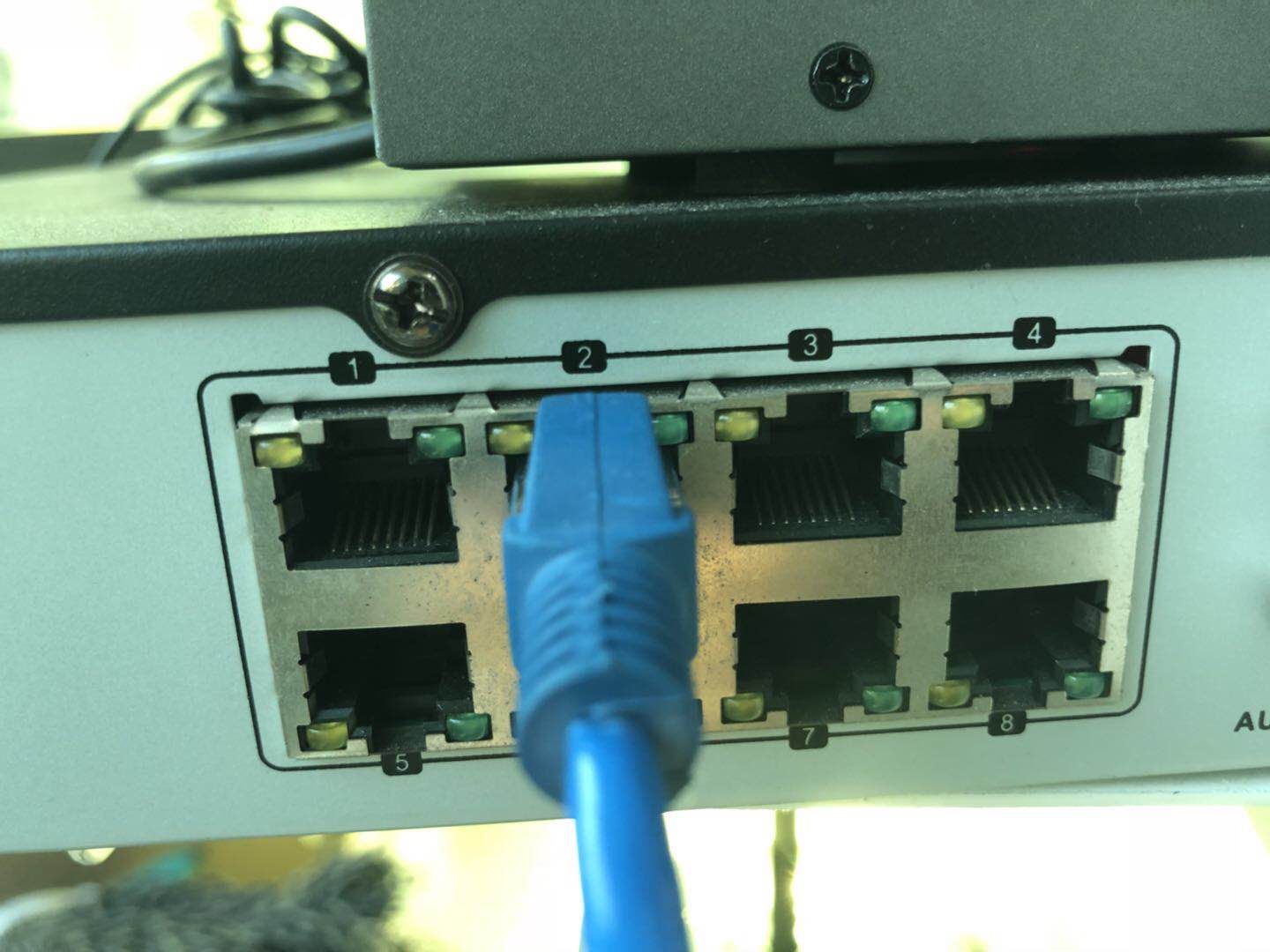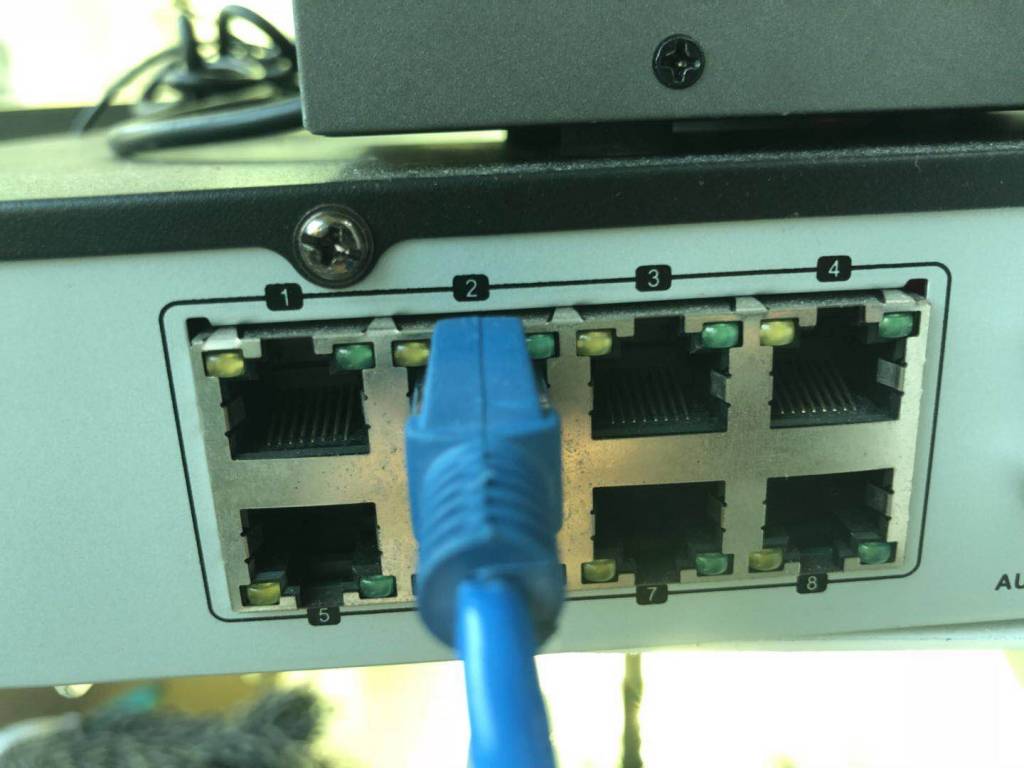 Step 4. Go to Camera Management of the NVR Interface. 
Select and modify the channel that the camera is connected to, and input the corresponding info of the camera that you just input.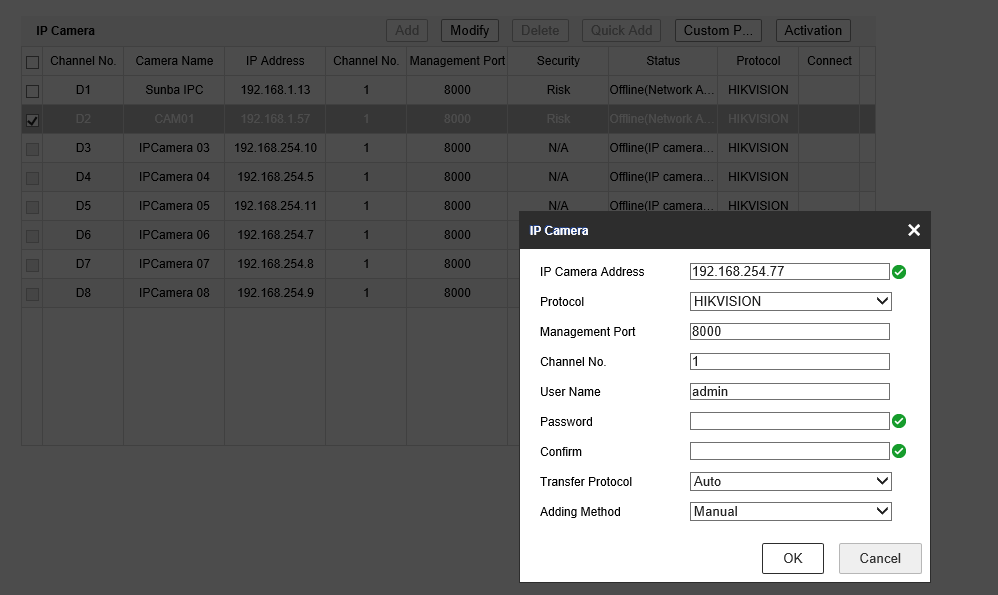 Step 5. Click OK and wait for the camera to connect, which takes usually a minute. 
You can also refresh the page. The camera is now online.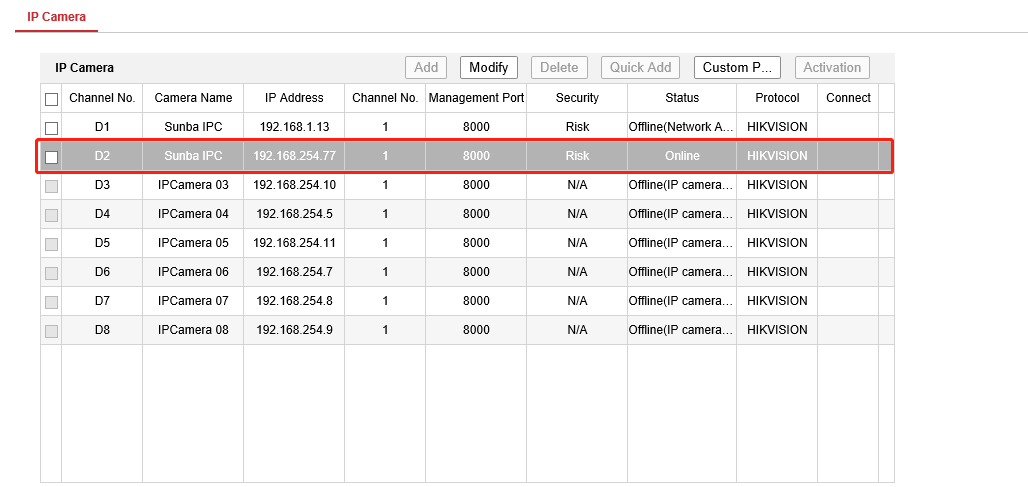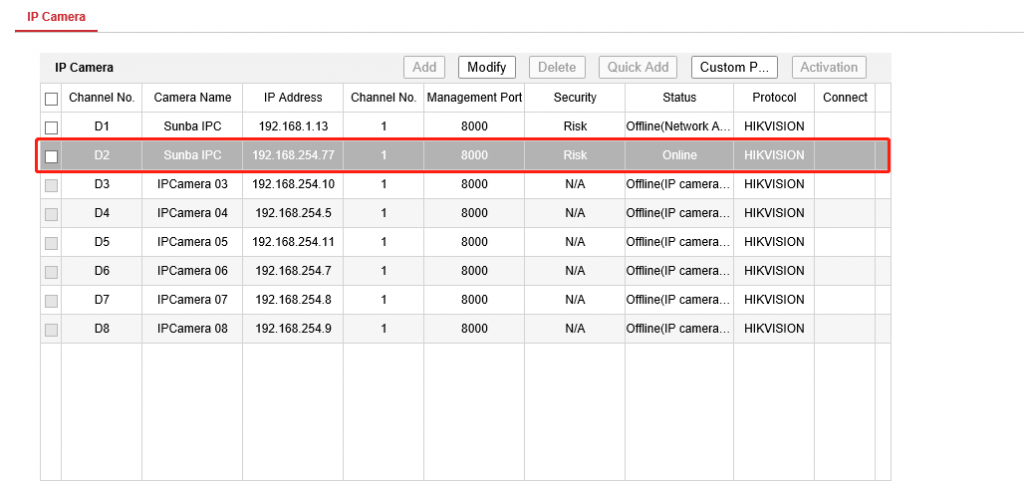 Step 6. Live view and set up preferred recording plan.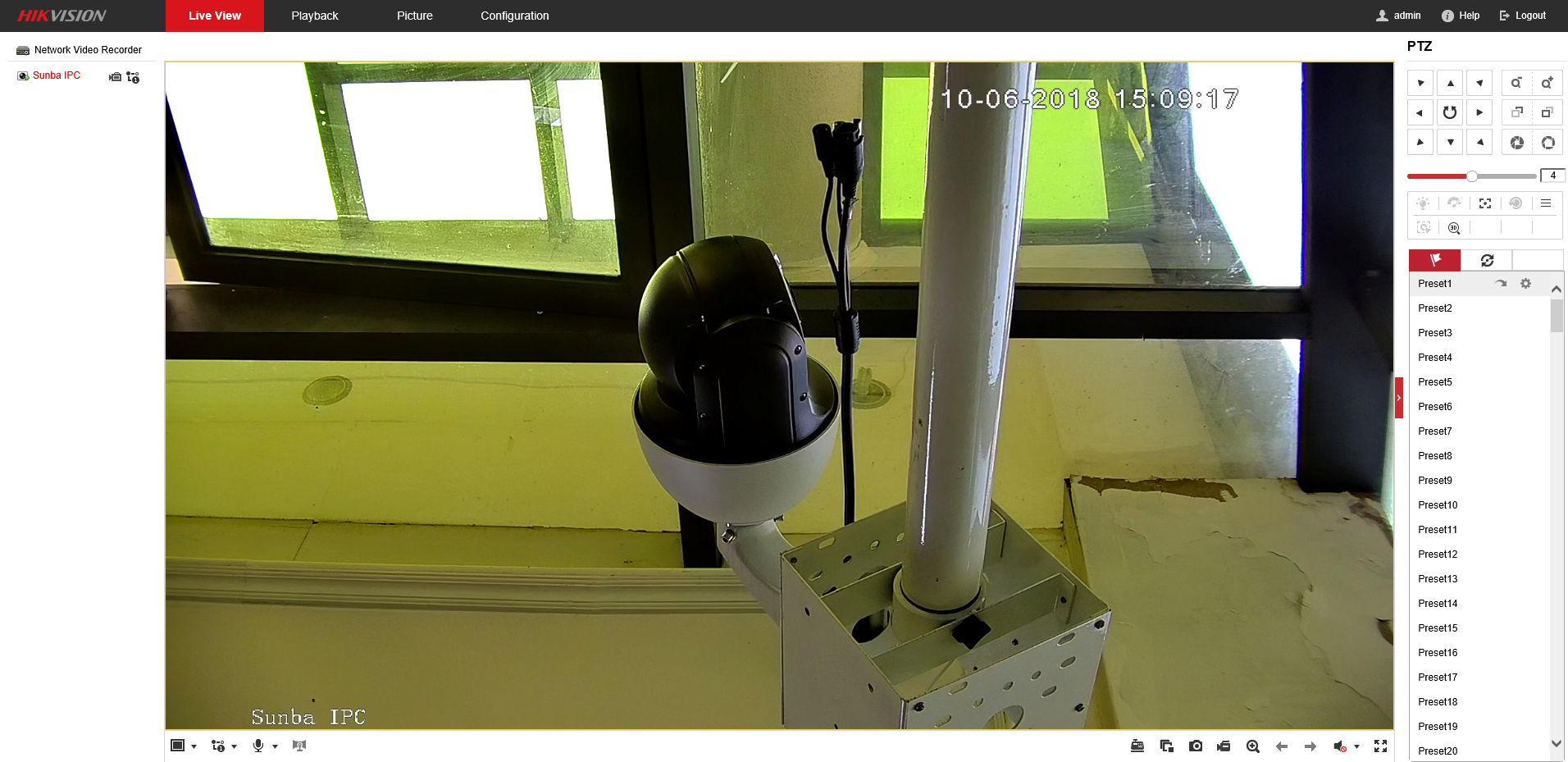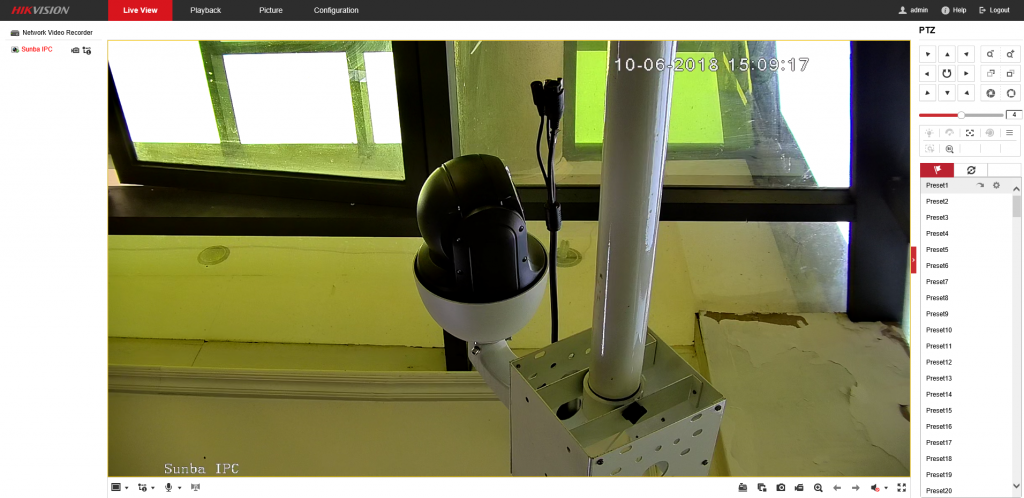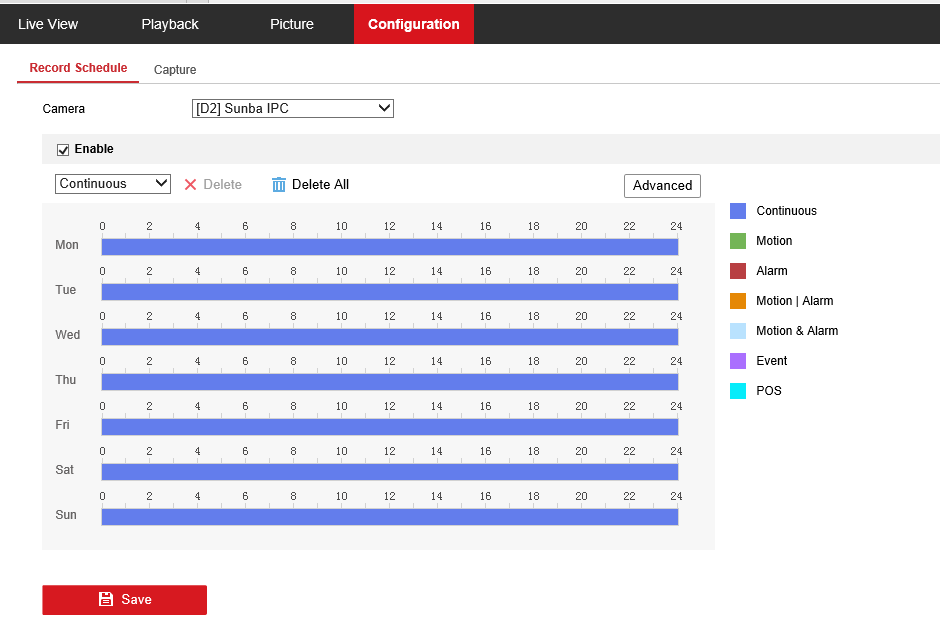 Contact support@sunba.net if you still have trouble connecting to Hikvision PoE NVR or if you would want to connect to Hikvision PoE when powered using DC12V adapter.