How to remotely view your IP camera?
There are multiple ways of remotely control/view Sunba IP cameras, and we would like to break down each methods in terms of their security and connectivity.
1. Port Forwarding
This is a very conventional way of remotely connecting IP cameras. By definition, port forwarding will enable remote access by mapping traffic through specific ports to specific device on the LAN (Local Area Network).
Let's try to break down this in a newbie and straightforward way.
Say your IP camera has IP 192.168.1.10 (which is the default IP of most static IP Sunba PTZ camera), and your router has IP 192.168.1.1, which is also the gateway of your LAN.
When connected to the Internet, your local network will have a corresponding WAN (Wide Area Network) IP, which you can find on your router: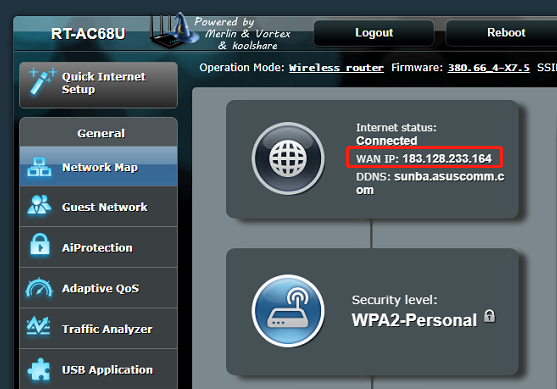 Or you can find it on other websites such as http://canyouseeme.org
The ports that you forwarded through the router are like keys to individual device on your LAN network.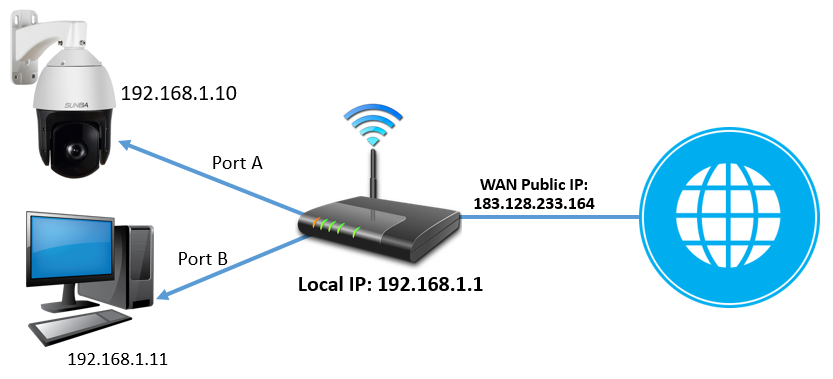 For example, Sunba camera requires you to forward media (TCP) port and http port. And let's assume your external http port is 8181. Then the user will be able to log into your IP camera through http://183.128.233.164: 8181.
If you have other ports for other devices that you forwarded, then users can login those devices in the corresponding method by typing WAN IP: External http port on the address line of your browser or other supporting software.
Please refer to this article on how to set up port forwarding for Sunba IP camera: https://sunbatech.com/faq/what-is-port-forwarding/
Coupled with free 3rd party DDNS service, the hard-to-remember WAN IP (which may change if you don't have static IP) can be mapped to a permanent domain that you easily memorize.
However, this method is not secured as hackers can simply scan all your ports and try to access your device in LAN, unless you have all your local data encrypted or you have established certain firewall to deny unauthorized access. Thus, we do not recommend using this as the preferred way of remotely accessing your IP camera.
2. P2P Cloud
Different from port forwarding, P2P (peer-to-peer) technology establishes a connection between you and the remote camera without the need of port opening. This doesn't even require stream to go through a 3rd party server, and a 3rd party server is only there to verify the device UID (the P2P code/the serial number) and to authenticate the process. Therefore, P2P can only be used between the manufacturer's own app/software; for example, a Hikvision app cannot verify a Sunba P2P code and only Sunba has the UID for all its registered P2P device.
And this direct connection is called "hand-shake". However, what if a hand-shake fails?
For Sunba IP camera, 3 attempts will be made before the hand-shake fails. And if the hand-shake fails, the connection will be going through one of Sunba local server. Sunba uses Amazon Web Service to serve as a 3rd party server. In this case, the connection speed will be dependent on the server status.
To setup P2P on your smartphone, please refer to the video below:
3. VPN (Virtual Private Network)
This is absolutely one of the most secured ways of accessing your device remotely but the setup can be moderately difficult for beginners. VPN allows you to remotely connect to your LAN at home as if you are physically present at the remote site. This means you can view the remote IP camera through its local IP address as if you are at home. Meanwhile, all your data will be encrypted in the VPN server.
The first step is to set up a VPN server.
Currently the most popular VPN solution is OpenVPN. Most smart routers have built-in OpenVPN protocol encrypted that you just have to enable them to set up a VPN server. For specific steps of those, please refer to the user manual of your router. You can also set up VPN server through your PC NVR such as Blue Iris or even with your NAS.
Below is the setup page of OpenVPN through an ASUS router.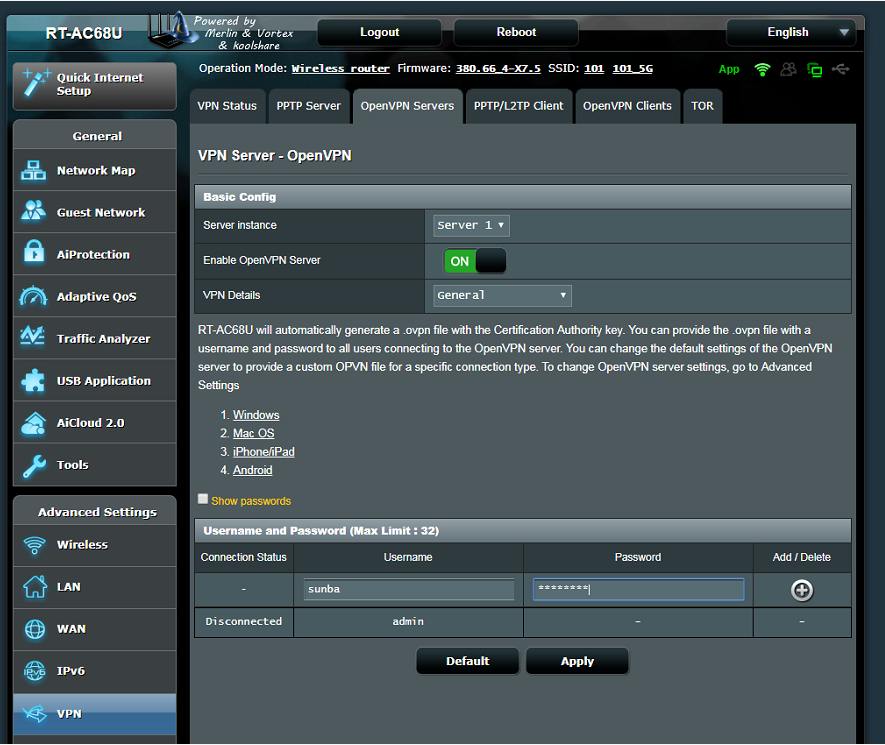 Note it is recommended to setup a DDNS in your router upfront, otherwise the VPN server may keep changing if you don't have a static IP with you. Below is a short video introducing you how to setup OpenVPN and connect to a remote camera.
4. RTSP Live Stream Broadcasting
With RTSP stream, you can remotely view the camera in a broadcasting manner on a webpage, but you can not control the IP camera.
You can use 3rd party RTSP service provider such as Anglecam with the following url:
rtsp://IP:554/user=admin&password=&channel=1&stream=0.sdp?real_stream
where 0 = mainstream and 1 = substream
Most RTSP service providers require you to forward RTPS stream. Some other service providers, such as OBS, can transfer RTSP stream into RTMP, enabling a broadcasting over YouTube (YouTube only accepts rtmp, the stream format for USB camera). For OBS, port forwarding isn't required but you need to set the computer to be on all the time for decoding purpose (the computer will be served as the decoder as versus to the online 3rd party server, which is way port forwarding isn't required).
Below is Sunba Live Broadcasting Demo on YouTube. If the link below expires, subscribe to our YouTube channel to get the latest link.
5. Teamviewer
If you have a computer that will was set to "never sleep" at the remote site, you can install a remote desktop control software called Teamviewer, and set an unattended access. This way, you can remotely log into this computer, and indirectly get access to all information of cameras installed at a remote site.
For example, you installed a Sunba PTZ camera at home and would like to access this camera when you are in your office. You first will install Teamviewer software for your computer at home, and remember the "allow remote control" info, which is used to remotely access this computer.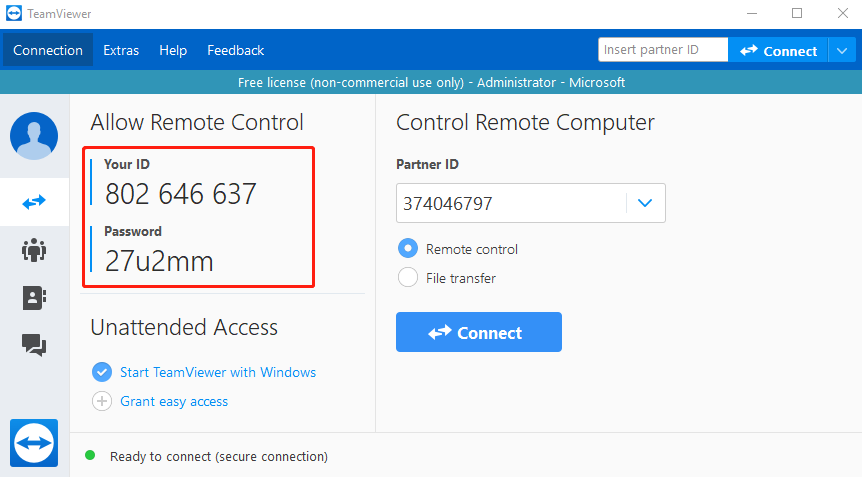 However, since the password changes constantly, it is better that you set an "unattended access" password option at Extra-Options-Security: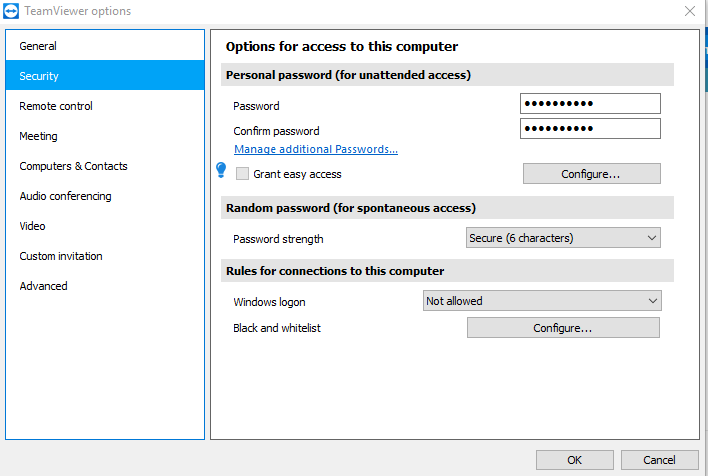 Then, you can install the same Teamviewer software at your office. And on the right hand side of your software "Control Remote Computer", enter the ID of your home computer to establish a connection and then proceed with the unattended access personal password you set before.
Note your home computer must be on all the time so it is recommended to set it to "never sleep".